Latest News
Once in Royal David's City - Trinity Choir
According to tradition, since 1919 every service of nine lessons and carols has begun with Once in Royal David's City (words by Cecil Frances Alexander and set to music by Henry Gauntlet). As we were limited in what Christmas celebrations we could pursue, we felt it fitting that we used our time to honour this tradition, given that many of our local churches wouldn't be able to hold their carol services. The solo here is sung by George S, our head chorister, who up until recently refused to sing a solo in front of anybody. I am sure you will agree, we are blessed to have voices like this to make up our school choir and we are grateful that George has found the confidence to allow us to showcase him! The choir recorded in groups and particularly enjoyed singing the last verse with the soaring descant. We are so privileged to have a choir of such skill and talent.
Lully, Lulla, Lullay - Pure Voices
The roots of this carol date back to the 14th Century, and the oldest known written melody is dated to 1591 - the first year of Queen Elizabeth Is reign. We used a modern setting (2008) of the lyrics by Phillip Stopford, originally written for full adult choir but adapted to enable us to sing in 4 parts! The carol tells the story of the 'massacre of the innocents' and represents the voices of the mothers of the children that were ordered to be killed by King Herod when he heard the Messiah had been born in Bethlehem. The melody is both haunting and beautiful. It was definitely a challenge for Pure Voices, but they worked incredibly hard and all put the time in to learning their separate parts. We could not be prouder of them.
Message for our prospective parents:
Due to the current COVID Pandemic, we are unable to offer our usual Open mornings for prospective parents. Please see our virtual tour of the school under the admissions information link. Our new prospectus is available to collect from school.
Welcome back to school September 2020
Please click on the link below to read the letter from Mrs Price welcoming all our children and families back to school September 2020.
Trinity Choir ~ 10000 Reasons
Please click on the video message below from Mrs Price for children in Years R ~ 5
Please click on the video message below from Mrs Price for children in Year 6
Thursday 19th March will be our last school day until further notice. Please click on the Learning tab and then on to the Home Learning tab where, as from Monday 23rd March, you will find resources for each Class. There will also be resources for RE and for Sport and Fitness. Home Learning will be refreshed every Monday morning until school is open again.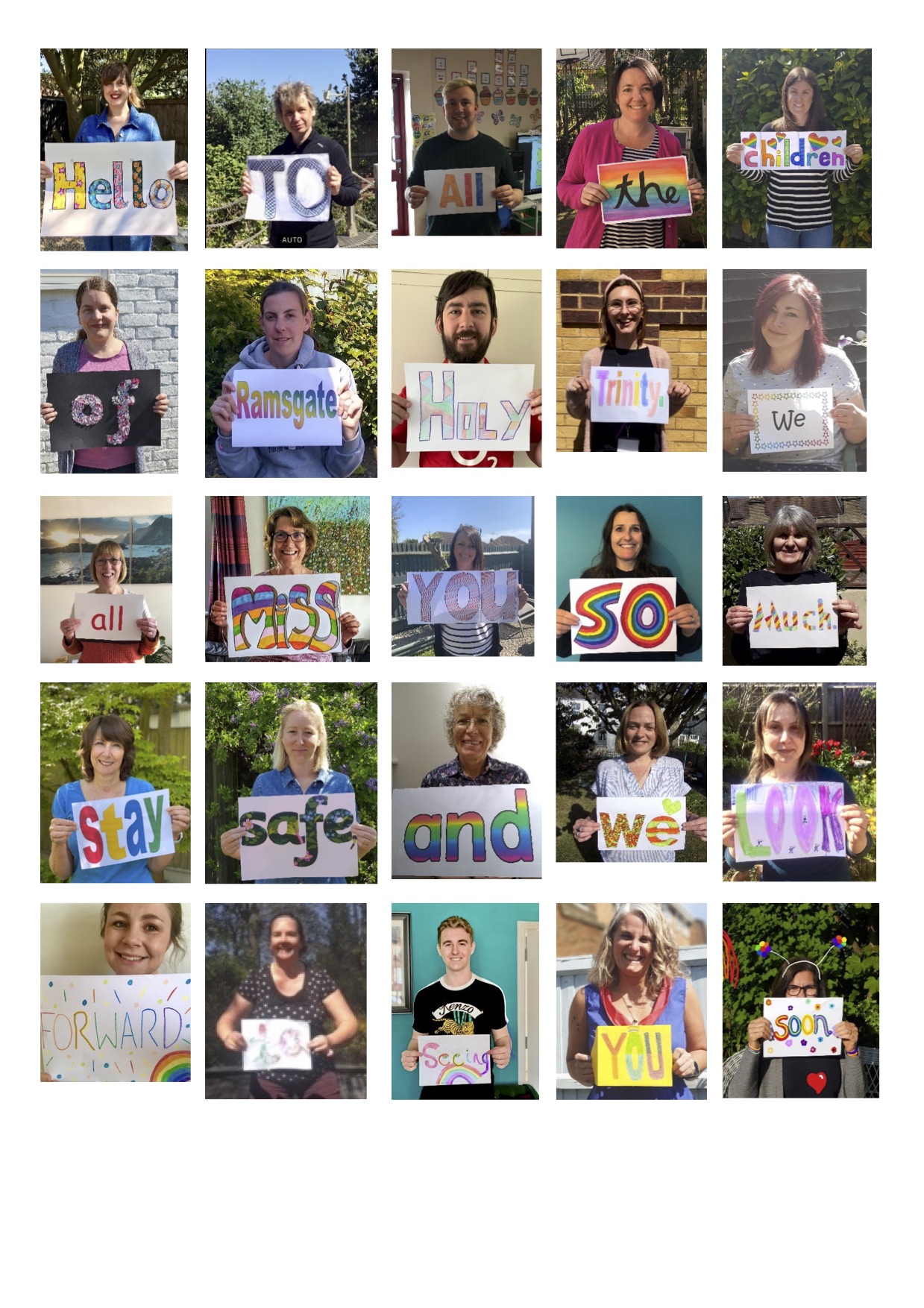 Open Mornings for Prospective Parents

Published 04/11/21

We are holding three Open Mornings for Prospective Parents

Read More

Black History Month - Visit from Kenny Baraka

Published 18/10/21

Visit from Kenny Baraka ~ Black History Month

Read More

Our ArtsMark Journey

Published 10/11/20

The school has begun it's ArtsMark Journey and therefore we are aiming to display some of the best of the talent we have in our school in relation to the arts. Look at the school twitter (@RHTPrimary) as we share Musicians, Singers, Dancers, Thes

Read More

Thanet Festival

Published 12/03/20

Pure Voices Take Home the Trophy

Read More

Candlemas Ceremony

Published 05/02/20

Our Pure Voices choir singing at the Candlemas Ceremony.

Read More