Year 4 News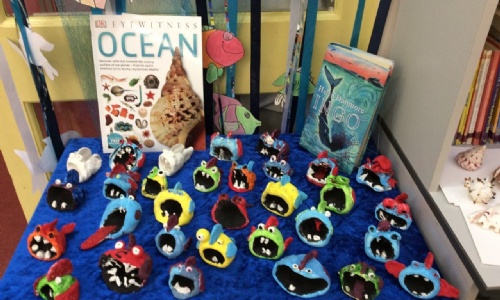 News from childlren in Class 4.
In Term 1, Class 4 children have been diving into a topic entitled the "Deep Abyss" this term. Children have been investigating the different layers of the ocean and the creatures who inhabit them, how marine creatures have adapted to their environment and the location of many oceans and seas.
English work has included writing a biography of Jacques Cousteau, a dilemma story set at sea and a report on a newly discovered, imaginary sea creature. In Science, the class made a straw submarine in a bottle, using pressure to manoeuvre the submarine up and down inside the bottle. (Apologies to the parents who met slightly damp children at the end of this lesson!) The pupils have also investigated food chains and the phenomenon of bioluminescence.
In art, children produced colourful fish pictures, using pastels, and made quirky fish models from thumb-pots. At the moment, we are in the middle of making fish prints.